Wells is presently restoring some of the historical buildings to bring back the character of the town.
---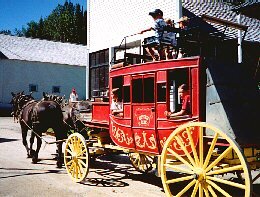 Barkerville
Barkerville is located at the end of the Gold Rush Trail, 89 km (55 mi.) east of Quesnel on Highway 26.
In 1862, Billy Barker found gold on Williams Creek, a discovery that started a rush of fortune seekers from all over the world. Between 1862 and 1870, over 10,000 people travelled the Cariboo Wagon Road, named the eighth wonder of the world, converging on the gold fields, and the boom-town called Barkerville. In its heyday, Barkerville was the largest city west of Chicago and north of San Francisco.
Along the highway to Barkerville, where stage coaches and pack horses once travelled, there are historical points of interest with such intriguing names as Mexican Hill, Robber's Roost and Devil's Canyon. Cottonwood House Historic Site feature one of the last original roadhouses along the Cariboo Wagon Road. Blessing's Grave is a lonely roadstop marking the site of an infamous murder.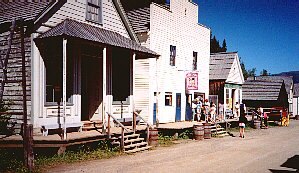 This authentically reconstructed historic city of Barkerville is one of the finest anywhere, boasting over 100 displays and "living history" programs; roar to the antics of the stage shows at the Theatre Royal, sample a treat at the bakery, quaff a glass of cool root beer at the saloon, or partake of pioneer (or modern) fare at one of the eateries or hotels along Main Street. Stop and talk to the "residents" and find out what it was like to be a blacksmith, a school teacher, seamstress or young child 100 years ago! To bring home your experiences get a photo taken in top hat or long gown and billowing hat.
Local Attractions:
Cariboo Wagon Road -Mexican Hill, Robber's Roost, Devil's Canyon, Cottonwood House, Blessing's Grave, Lover's Leap
Barkerville - Barkerville Provincial Park offers the visitor a chance to step back in time; attend the historic St. Saviors Church, schoolhouse lessons, courthouse trials, stagecoach rides, Theatre Royal, blacksmith demonstrations, photographer's studio.
Wells - galleries and shops, Island Mountain School of Arts, nearby Bowron Lake Provincial Park
Recreation Activities:
Canoeing Bowron Lakes, hiking trails, cross country skiing, snowmobiling, photography, wildlife viewing, bird watching, mountain biking, dog sleding and back country skiing.
Accommodations:
Wells provides motels, a hotel and bed and breakfasts accommodations and there are three provincial campgrounds within 2 km of Barkerville. There are eateries for your dining pleasure.
For more Information:
Barkerville Historic Town
P.O. Box 19 Barkerville, BC, V0K 1B0
Telephone: (250) 994-3332
BC Parks, 540 Borland St.
Williams Lake, BC, V2G 1R8
Telephone: (250) 398-4414