BC Houseboat Vacations
Houseboat rentals & charter companies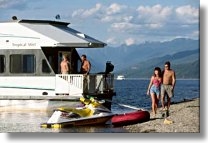 British Columbia, a land of mountains, valleys and lakes, is home to Canada's finest houseboating vacations. BC charter companies provide houseboat rentals and unforgettable summer vacations.
---
BC Houseboat Rental & Charter Companies:
---

Overview of Houseboat Vacations in BC
What could be more inviting than lounging on the deck of a houseboat as soothing waves lap against the hull, watching the fish jump just feet away, as you slowly cruising past scenic shorelines of mountains, rolling hills and beautiful green forests. BC offers unsurpassed natural scenery and outdoor adventures. Nature designed this playground for everyone. Come . . . enjoy . . . partake!
Cruising one of British Columbia's large lakes makes for a great family holiday. Time does not matter, as there are no fixed schedules, you can stop and explore at leisure. Enjoy fishing right off the deck and go swimming whenever you wish. Cruising is relaxing as you slowly make your way along a rocky rugged shoreline enjoying the beauty of nature. Drop anchor at a sandy beach and head for shore to do some hiking or sit back and take in the spectacular sunsets.


Numerous golf course are close by, and you you'll enjoy spectacular scenery and wildlife as you cruise by marine parks, secluded coves and sun drenched beaches. You call the shots in your waterway home away from home.
Houseboats come in many sizes and have all the conveniences of home with many including TV, VCR, and CD Player. They are equipped with fridges, stoves and ovens, hot water showers. Many rentals come equipped with three-piece bathrooms, hot tubs, barbecues and water slides. All you have to bring is food, bedding, beach towels, personal items and your camera. Because your safety is all-important, houseboats are equipped with VHF radios, maps, first-aid kits and life jackets. The charter owners give short instructional cruises and list moorage facilities. Costs of rentals vary, depending on the size, amenities and the season.
Houseboating holidays are available in all areas of British Columbia, from Atlin in the majestic north to Cowichan Lake and Sproat Lake on beautiful Vancouver Island in the south. Sicamous, located on Shuswap Lake, is known as the Houseboat Capital of Canada. Sorrento, also in the Shuswap, and Okanagan Lake and Mara Lake also offer great fun in this region.
In the BC Rockies, Lake Koocanusa is a boater's paradise. Uncrowded calm waters in an incredible setting. Enjoy superb rocky mountain scenery, warm, clean water and fantastic sand beaches. Lake Koocanusa offers over 400 hundred Kilometers of international shoreline and many secluded mooring sites.
On your next holiday in BC spend a fun-filled weekend, a few days, a week or more cruising in comfort. It is the perfect get-away with family and friends. Make your reservations early.
Rentals on Shuswap, Sicamous, Okanagan, Sorrento, Mara, Sorrento, Sicamous, Vancouver Island, Mara, Atlin, Lake Koocanusa, Cowichan Lake, Sproat Lake.