British Columbia Guest Ranches
BC Guest Ranches and Western Vacations Directory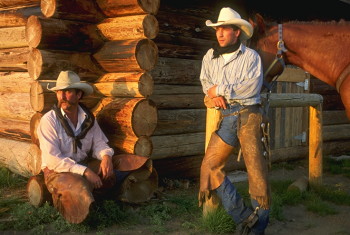 Welcome to British Columbia, Canada's Real West. Swing into the saddle and experience an authenthic western vacation at one of the many guest ranches in BC!
Guest ranches in British Columbia offer relaxed western hospitality, good food, and outdoor adventures. Some are working cattle ranches where you can take part in the everyday schedule of cattle drives and branding. Others are luxury resorts with room service, air conditioning and spa facilities. Or choose a remote lodge and explore the back country on horseback. BC guest ranches are all different. Some are family oriented, while others cater only to adults.
Guest ranches in BC welcome horseback riders of all abilities and experience - from novice to intermediate and advanced riding skills. Ride on mountains trails, by pristine lakes and streams. See alpine meadows and savour the sweet smelling fresh air. British Columbia guest ranches provide a variety of activities, such as fishing, canoeing, hiking, wildlife and nature viewing and special ranch events. Climb into a hay wagon, take part in a cattle drive and share tall tales around the campfire.
Step into the stirrups and experience the Real West with a western vacation at one of the many incredible guest ranches in British Columbia!

---
British Columbia Guest Ranches
BC Guest Ranches and Western Vacations Directory
| | |
| --- | --- |
| | British Columbia Guest Ranchers' Association: Our guest ranch membership offers a variety of ranch holidays. Some are working ranches, others remote lodges in pristine back country areas and some are luxury resorts. You're sure to find something to fit your taste with the help of our assocation. more |
| | |
| --- | --- |
| | Three Bars Ranch: Located in the Rocky Mountains between Banff Park and Glacier Park, our special part of the world offers an abundance of nature, clean fast moving water, green fields and breathtaking mountain vistas. Enjoy horseback riding and one of the most diverse activiti... more |
| | |
| --- | --- |
| | Big Bar Guest Ranch: No deadlines, fresh mountain air, good horses & trails that lead to spectacular views. Nestled in the rolling hills of the Cariboo, where time has no meaning, we offer riding, hiking, gold panning, canoeing, hay rides, fishing, x-country skiing, snowmobiling,... more |
| | |
| --- | --- |
| | Big Creek Lodge: Live your dream of untouched nature and pure wilderness at our 4 Star country inn in the Chilcotin - one of the province's most remote areas. Take part in hiking, photo safaris, fishing, horseback riding, gold-panning, snowmobiling, and cross-country skiing. more |
| | |
| --- | --- |
| | Blackwater-Spruce Ranch: In the high plateau country you'll find meadows, rivers, & lakes. Hike the Alexander Mackenzie Heritage Trail, camp, canoe or experience ranch life as you spend time at the Blackwater-Spruce Ranch in the North Cariboo! The wagons hooked up and ready go! more |
| | |
| --- | --- |
| | British Columbia Guest Ranchers' Association: Our guest ranch membership offers a variety of ranch holidays. Some are working ranches, others remote lodges in pristine back country areas and some are luxury resorts. You're sure to find something to fit your taste with the help of our assocation. more |
| | |
| --- | --- |
| | Chezacut Wilderness & Ranch Adventures: We offer you an authentic experience on a working cattle ranch. Become a more confident rider joining your guide on ranch tours or cattle drives. Our home cooked, organic food and grass-finished meats are always on the menu. Sleep deeply in your comfortable su... more |
| | |
| --- | --- |
| | Chilcotin Holidays Ltd: Stay at our guest ranch and explore some backcountry while you see BC's true wilderness. Enjoy trail riding and sleigh rides, guided multi-day hiking trip or wilderness trekking, wildlife viewing and big game safaris, x-country skiing, snowmobiling , fishing ... more |
| | |
| --- | --- |
| | Escott Bay Resort: The adventure starts with fishing, hiking, horseback trail riding, pack trips and hunting – and with the snow comes x-country skiing & snowmobiling. Located between Tweedsmuir and Itcha Ilgachuz Parks, we offer fully serviced cabins and camping facilities. more |
| | |
| --- | --- |
| | Euchiniko Lakes Ranch: Enjoy flyfishing the famous Blackwater River, packhorse trips or riding wilderness trails, big-game hunting, canoeing or hike the historic Alexander Mackenzie Trail. There's something for everyone at Euchiniko Lakes Ranch including a relaxing camp fire. more |
| | |
| --- | --- |
| | Free Rein Guest Ranch: Explore our amazing landscapes, enjoy our Western hospitality, experience our adventures and embrace our friendly and relaxed Cariboo lifestyle. We really do give you free rein to decide how you spend your days with us. more |
| | |
| --- | --- |
| | Siwash Lake Ranch: 4.5 Stars - explore pristine wilderness by horseback, on your own or with a guide. Cast to a rising trout, hike to cascading waterfalls, mountain bike an array of trails or paddle shimmering Siwash Lake. Ultra-luxe accommodation, fine dining & all season adven... more |
| | |
| --- | --- |
| | Spring Lake Ranch: Enjoy horseback riding, hiking, canoeing, & winter sports with old fashioned hospitality & a relaxed western atmosphere. Our year-round natural paradise, in BC's Cariboo Country, is the perfect place for a tranquil adventure and to create special memories. more |
| | |
| --- | --- |
| | Sundance Guest Ranch: We're located in one of the sunniest spots in Canada - the southern interior of BC. Whether you love the adrenaline rush of a spirited horse, or first-timer content to take it easy, you're going to love our accommodation, recreation, the many amenities and mo... more |
| | |
| --- | --- |
| | The Hills Health & Guest Ranch: Enjoy a rejuvenating escape from everyday at our world-class health spa and western guest ranch. In winter there's X-country skiing & snowshoeing … and in summer canoeing, mountain biking, and hiking. Our country dining room also features a gourmet menu. more |
| | |
| --- | --- |
| | Ts'yl-os Park Lodge: Enjoy fully guided river fly fishing and horseback riding vacations, through the valleys, while staying at our mountain lodge. Call us or visit our website to ask for a free colour brochure and be sure to ask about week-long mountain horse packtrips! more |
| | |
| --- | --- |
| | Euchiniko Lakes Ranch: Enjoy flyfishing the famous Blackwater River, packhorse trips or riding wilderness trails, big-game hunting, canoeing or hike the historic Alexander Mackenzie Trail. There's something for everyone at Euchiniko Lakes Ranch including a relaxing camp fire. more |
| | |
| --- | --- |
| | Williston Lake Resort: Williston Lake Resort is situated in the foothills of the Northern Rocky Mountains, on the shores of the largest reservoir in Canada. Whether your crave backcountry adventure, or family memories that will last a lifetime, we'll help you make the most of your ... more |
| | |
| --- | --- |
| | Big Bar Guest Ranch: No deadlines, fresh mountain air, good horses & trails that lead to spectacular views. Nestled in the rolling hills of the Cariboo, where time has no meaning, we offer riding, hiking, gold panning, canoeing, hay rides, fishing, x-country skiing, snowmobiling,... more |
| | |
| --- | --- |
| | Jandana Ranch: We offer an affordable personal ranch vacation experience for families, individuals, and small groups of up to 20. Take part in the operation of a working horse ranch, take in trail riding, natural horsemanship lessons, fishing, nature walks, & winter activit... more |
| | |
| --- | --- |
| | Sundance Guest Ranch: We're located in one of the sunniest spots in Canada - the southern interior of BC. Whether you love the adrenaline rush of a spirited horse, or first-timer content to take it easy, you're going to love our accommodation, recreation, the many amenities and mo... more |
| | |
| --- | --- |
| | Tod Mountain Ranch: Our ranch guests relax in comfortable cabins, and rides take place in almost 30,000 hectares of mountain trails, forest and alpine … home to bear, deer, moose and coyote. Enjoy home cooked meals, fresh mountain air, and a soak in our hot tub as the sun sets. more |

British Columbia Guest Ranches
BC Guest Ranches and Western Vacations Directory