Crystal Lake

Click on the moose on the left for complete BC travel information.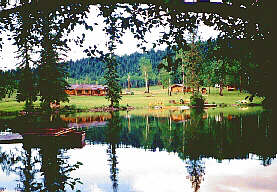 Location: Crystal Lake is a beautiful and small 55 ha. (135 acre) lake that can be found in British Columbia's South Cariboo approximately 5 kms (3 mi) southwest of neighbouring Bridge Lake on Highway 24 that links 100 Mile House and Little Fort.

Resorts & Campsites: There is camping available at a nearby BC Forest Service Recreation Site. This campsite offers 7 vehicle well treed campsites that is accessible by 2 wheel drives and RV's.

Crystal Lake is home to one of BC's excellent guest ranches, Crystal Waters Guest Ranch, offering western theme adventures, riding and log cabin accommodations.

BC Adventure Network members serving this area:


If you would like to have your business listed, please Click Here.

Fishing Report: At an elevation of 1159 m (3801 ft), Crystal Lake is known to be a good producer of trout up to 2 kg (4.4 lb), although, a 6.3 kg (14 lb) rainbow trout is on record. The best months are in the spring, early summer and fall, with the peak time being May 1st to July 15th. The lake also produces well throughout the winter ice over period. Crystal Lake is stocked with Rainbow trout. Anglers employ a number of techniques, including fly fishing, and spinning or trolling gear. The water is crystal clear and so fly fishing with long leaders of up to 20 feet are recommended. Watch for the frequent hatches and this often challenging lake can prove quite rewarding.

Ideal for float tubes and canoes, this tranquil lake is not for the water ski or power boat enthusiast. Car toppers can be launched and rowing or electric motors are advised.

Nearby Lakes

Hot Fish: You have to hike into this small lake that offers excellent fly fishing for rainbow. No facilities are available and it is advisable to ask for specific directions for this lake off the Pendleton Lake Road.

Succour: Located northwest off the Hendrix Lake Road on a rough logging road, this wild stock lake has good rainbow fishing all summer with flies and spinning lures being most effective. The small Forest Service campsite has an area for cartop boat launching .

Howard: This lake noted for its fly fishing, is located on the south side of Canim Lake. The busy Forest Service campsite is RV accessible with a boat launch; motors restricted to 10hp. Rainbows can reach five pounds and better.

Note: Always check your current BC Fishing regulations before you start fishing a new lake.