Logan Lake
Part of the BC Adventure Network. Over a million web site visitors annually !

Logan Lake, BC
From Ashcroft, BC Highway 97C heads up from the grassy rangelands to the forested hills around the community of Logan Lake.
The community owes its beginning to British Columbia's mining industry but today promotes the great outdoor recreational facilities in the area.
Travellers visiting Logan Lake pass by the sparkling waters of many beautiful lakes famous for the quality of their trout fishing, and anglers will find welcoming fishing lodges near the community.
Logan Lake offers some of the best cross-country ski facilities found anywhere in British Columbia with 36 km (22 mi.) of excellent groomed trails that begin close to the town centre. When visiting this community you can also enjoy golfing, hiking, biking, and wildlife viewing.
Accommodation/Adventure Providers
If you would like to have your business listed, please
Click Here.
Population: (District) 2500
Elevation: 1070 metres (3210 ft.)
Main Industries: tourism and some mining
Accommodations:
Lodge with family restaurant, a pub and conference room, and a private campsite. Resorts operate on some area lakes.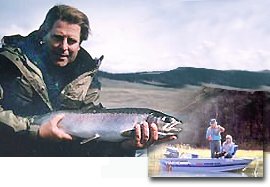 Recreational Facilities & Activities:
Fishing - (including world class fly-fishing on more than 25 near by lakes). Golfing at Meadow Creek Golf Course. Biking, hiking, horseback riding and rockhounding (information and maps are available).
Logan Lake offers a Recreation Centre with fully equipped gym. Public tennis courts. Hockey, curling and skating at the Recreation Centre. Skeet shooting.
Highland Valley Copper Mine tours (view North America's largest open pit copper mine). Wildlife and bird watching (locations and maps are available).
Cross-country skiing. Ice fishing (check with locals for the best destinations). Snowmobiling.

Access:
Motorists can make a loop trip from Kamloops, BC, if they followed Highway 1 west to Cache Creek, then followed the highway south before turning east on Highway 97C just south of Cache Creek. Highway 97C passes Ashcroft, then Logan Lake. The road from Logan lake rejoins Highway 5, the Coquihalla, enabling the motorist to head north 60 km (37 mi.) back to Kamloops. A round trip of under 200km (124 mi.) passing through a wide range of scenery; from rolling desert like hills to lush river valleys. The area is also serviced by Greyhound Bus Lines.
Logan Lake Business and Community Services:
This tourist and mining community offers complete amenities for visitors as well as locals. Services include a bank, medical care and doctor's office, post office, department store, florist, flyshop, grocery store, bakery, hair dresser, laundromat, car wash, gas stations, towing, deli, liquor store, gift shop, an art gallery and shop.There is a video rental outlet and a recreation equipment rental shop. There is an ice cream palace, pizza and wing take-out, and restaurants offering Chinese and Canadian cuisine, as well as Greek and Italian food.
For a complete list of what Logan Lake has to offer check with the Tourist Information Centre by phoning (250) 523-6322.

Cross Country (Nordic) Skiing:
Logan Lake community is proud of their cross-country ski facilities and for good reason. You can enjoy cross-country skiing on 36 km (22 mi.) of groomed trails that begin close to the town centre. 2 km of the trail is lit for night skiing.
Trails are groomed so you can use both classic and skating techniques. Young and old, novice and seasoned skiers will find the Logan Lake ski area to their liking, days are sunny and the air is clean and crisp. This area of High Country usually experiences dry snow and plenty of it.
Logan Lake ski fee is only $5.00 per day per adult. And only a 25-minute drive away is the Stake Lake ski area, with more than 45 km (28 mi.) of groomed trails. Fee is $7.50 per day per adult.
---
For Information:
City Hall
Box 190, Dept. RG, Logan Lake, BC, V0K 1W0
Telephone (250) 523-6225
Logan Lake Travel InfoCentre
Box 1060, Logan Lake, BC, V0K 1W0
Telephone (250) 523-6322 • Fax (250) 523-6678