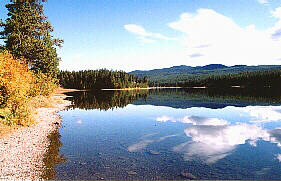 Resorts & Campsites: No resorts but Paska has a large semi-open 50 vehicle BCFS campsite that is motor home accessible. Boat launch is available.

BC Adventure Network members serving this area:


If you would like to have your business listed, please Click Here.

Fishing Report: Excellent populations of fresh water shrimp (scuds), chironomid, caddis, mayfly and dragon fly larvae provide great feed for fish that grow up to the 3 lb. range. Of course all this points to a very good fly fishing lake.
Be sure to visit Fishbc.com for angling information!

Nearby Lakes
Face Lake - Face Lake is located just minutes to the north of Paska. It also offers a very good fishery for rainbows up to 3 lbs. There is 1 resort on Face and also a small, treed 10 vehicle BCFS campsite with cartop boat launch.

Dominic Lake - Dominic Lake is located north of Paska. Elevation is 1524 m. (4999 ft.) with ice-over from November to late May. It is 36 ha. (90 ac.) in size. A fishing camp can be found on the lake with cabins and boats. Dominic is stocked with rainbows and because of it's elevation, fishing is good right through the ice free season. Trout sizes are small about 1 1/2 lb. but there are lots of them.

Dairy Lake - Dairy Lake, a small lake 25 ha. (62 ac.) with an elevation of 1380 m (4528 ft.) located just north of Dominic. Provides excellent fishing for rainbows ing the 1 to 2 lb. range. It sometimes suffers from winter kill, however, when it doesn't over a period of 4 to 5 years, this lake has the potential of producing some real monsters. A semi-open 8 vehicle BCFS campsite with cartop boat launching is located on the lake.

Duffy Lake - Duffy Lake is located 4 kms. (2.5 miles) to the northwest of Dairy lake. It is at an elevation of 1160 m. (3805 ft.) with an ice over time from November to early May. Duffy is 23 ha. (57 ac.) in size and considered an excellent family lake with stocked rainbows up to 3 lbs. A semi-open 30 vehicle BCFS campsite that is motorhome accessible can be found on the lake. Cartop boat launching is available.
Note: Always check your current BC Fishing regulations before you start fishing a new lake.