Horseshoe Bay, British Columbia
Horseshoe Bay serves as a gateway community to adventure on British Columbia's Westcoast. This very picturesque village is the West Coast ferry terminus for BC Ferries to Departure Bay in Nanaimo on Vancouver Island, to Bowen Island and Langdale on the Sunshine Coast. It is also the starting point of the Sea to Sky Highway that hangs on cliffs as it winds its way along Howe Sound to Squamish, Whistler and Pemberton.
Located at the entrance of Howe Sound, Horseshoe Bay is a bedroom community for Vancouver and area with interesting shopping, a marina and full tourist facilities.



Accommodation/Adventure Providers
| | |
| --- | --- |
| | Sewell's Marina: Our ocean playground provides you Sea Safaris, boat rentals, guided fishing, & premiere moorage / marine facilities. Minutes from downtown Vancouver, the best boating, fishing, sailing, marine parks, quiet bays, and island retreats are minutes away. more |
If you would like to have your business listed, please
Click Here.
---
Population: Approximately 1,000
Main Industries: BC Ferries Terminus and tourism
Access: Horseshoe Bay is located northwest of Vancouver, British Columbia, where Highway 1 (Trans Canada) and Highway 99 (Sea to Sky) meet. It serves as the ferry terminus for BC Ferries for Vancouver Island (Departure Bay), the Sunshine Coast (Langdale) and Bowen Island.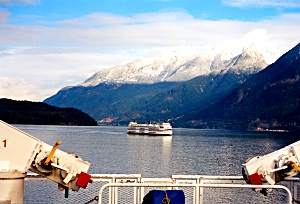 Recreation Facilities & Activities: sea kayaking, boating, scuba diving, hiking and sightseeing.
Local Attractions: Scenic Howe Sound, the Sea to Sky Highway, a marina, and the BC Ferries.
Accommodations: There are numerous bed and breakfasts, a motel, and camping at Porteau Cove Provincial Park. For Information:
For Information:
North Vancouver Infocentre
131 East 2nd Street, North Vancouver, British Columbia, V7L 1C2
Telephone: (604) 987-4488