Port Renfrew, BC
Saltwater Sportfishing Hotspots
with D.C. Reid
---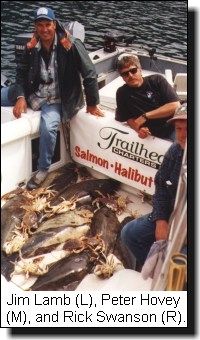 General Description
Located on Vancouver Island, British Columbia, one hundred kilometers to the northwest of Victoria, Port Renfrew boasts one of the few untouched trophy fisheries close to a major metropolitan area and airport. Ninety minutes by vehicle down Highway 14, Port Renfrew is home to Botanical Beach's intertidal pools and the start of the world famous West Coast Trail .
BC Adventure Members serving this area:
Winter fishing is influenced by two factors: weather and location. It is not uncommon for winter storms to move by the mouth of Port San Juan like mountain ranges and the boater is advised to use extreme caution, making sure that a full complement of electronics is on board. Accordingly, pressure on the fishing resource - feeder chinook - is slight. Adding the distance from Victoria, and Port Renfrew success can add up to 10 - 40 fish per day.
Summer fishing is influenced dramatically by location; Port Renfrew is the first place where migratory salmon from the open ocean and Swiftsure Bank encounter land on their spawning migrations to natal rivers in southern British Columbia and Puget Sound.
Port Renfrew and Bamfield , on the southern tip of Barclay Sound, are the closest towns serving as launching points for trips to the Swiftsure Bank and Nitinat Lake. In 1997, 2,000,000 chinook returned to the Nitinat.
Annual Cycle of Runs
Like most Pacific shore fisheries, all five species of salmon may be found in Port Renfrew waters: chinook , coho , sockeye , chum and pink . Unlike most fisheries, however, runs move through local waters 12 months of the year, with coho, pink, sockeye and chum presenting themselves as mature migratory fish in the summer.
November 1 - April 30, winter feeder chinook move. These are larger than average fish, running 8 - 19 lbs, with the occasional winter fish tipping the scales at close to 30 lbs. Tyee strip, anchovy and squirts are the lures of choice.
During mid-May, the first Columbian chinook move in from the Pacific. Most are 20 - 40 lb. "stubbies", although the occasional 50 lb. salmon is recorded. Closely following these behemoths are the Frasers in June. In July, as the Columbians return from their Juan de Fuca loop, a second run of the longer, more-flowing Frasers moves through.
In August, the first of the Robertson Creek chinook show in local waters, intermingled, late in the month with stray Nitinat chinook. Again, both runs are 20 - 40 lb chinook. San Juan River chinook, bound for the harbour's river enter the local waters in August and September.
At the beginning of July, the first coho begin showing in the tidelines that run parallel to the harbour mouth. Successive runs pass through for the next two months. In late July, the first sockeye are recorded by the DFO test boats and every odd-numbered year, pink salmon headed primarily for the Fraser River begin their dash down the Strait. By August most sockeye and pink have passed through.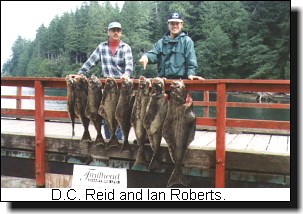 August and September bring the San Juan northern coho to the harbour. These are enormous northerns that reach adult weights of 15 - 22 pounds. September - October fishing in the San Juan River can be terrific for the large brutes and the first steelhead to begin milling at river's mouth. Freshwater steelhead fishing continues through February.
Ten to twenty pound chum come on-shore in the September - November period. While more fussy in saltwater, they prove good sport once entering the local river.
Winter chinook move in at 20 - 40' depths, ie., deeper than summer fish, in November.
Lures on an Annual Basis
Bait: Anchovy is the bait of choice, utilizing a 1-2 second flop roll and a clear, blue, chartreuse teaserhead, with a 6-7' leader to a Hotspot flasher for summer chinook. A second choice, is short cutplugs with a fast tight roll. Tyee strip is preferable in the winter and blue or white glowheads.
For northern coho, use a short cutplug cut just beyond the dorsal fin, leaving off the stomach, no flasher and a 6oz banana weight. For chum, use anchovy.
Hootchies: While local herring supplies have dwindled in recent years, needlefish concentrations have risen. Accordingly, this is a squirt fishery. Winter squirts include, green and white, army truck, and white. Summer sockeye prefer red or dayglow orange hootchies. Migratory coho hit blue or green combinations on a 42" leader behind a Hotspot of Oki Flasher. Use mylar inserts.
Plugs: 5-6" plugs. Numbers: 500, 301, 158, 602, 700. Utilize 7" plugs in mackerel years.
Spoons: Chrome Krippled K, Tom Mack.
Bucktails: The best bucktail for this area is the Pink Shrimp, particularly for northern coho. Secondarily, try the Grey Ghost, Ginger Jake, Coronation, Devil's Tail and Green Ghost. Attach the fly to a #4 Abalone or Nickel spinner, 10' of 10 lb. test line, and a bead chain. Use a #3 spinner for early coho.
Drift fishing: Fish are so plentiful that any lure works, particularly two old standbys, the Deadly Dick and Pirken.
Overall Strategy and Specific Fishing Areas
Three fishing areas present themselves in Port Renfrew: Owen Point for chinook; Cerantes Point for groundfish; and, the Whistle Buoy for migratory coho, pink and sockeye. One of Port Renfrew's chief advantages, along with its abundance of fish, is the simplicity of its fishing patterns. Virtually all salmon fishing takes place on a sand ledge that runs from Owen Point two miles to Camper Creek at a very consistent depth of 40 - 60'. Take care with the reef, 300 yards to the south west of Owen Point.
Another fisher-friendly feature is that the best fishing of the day occurs during the last two hours of the major flood tide - not the crack of dawn!
Chinook fishing is usually so consistent that other salmon species are taken only as bycatch during trolling for springs. The fishy depth is 15 - 30' deep on the downrigger. In the winter, however, chinook are slightly deeper at 20 - 40' depths. Mark the 60 - 80' contour along the Owen Point shore and swing to the south east angling toward the Whistle Buoy, until 120' depths are reached.
Generally speaking, summer coho are found in the tidelines that run parallel to the harbour mouth, 1-4 miles offshore in the top 30 feet of water. Fish parallel to shore from the Whistle Buoy to Camper Creek. Flood tides move coho, sockeye and pink into the mouth of the harbour at Owen Point. Sockeye run 60 - 100' deep, however, it is common for coho to intercept lures before they descend to sockeye depth.
Cerantes Point on the east side of the harbour has so many bass and rock fish that only ground fishers fish here even though all chinook eventually browse past its shores.