Victoria, BC, Waterfront
Saltwater Sportfishing Hotspots
with D.C. Reid
---
General Description
Established as a British colony in the 1800s, Victoria (population 250,000) has been the capital of the province of British Columbia since 1871. Located at the southern tip of Vancouver Island, a short hop from Washington's Olympic Peninsula, Victoria has some of the best winter chinook fishing on the Pacific coast, with fishing grounds five minutes from the provincial Legislature.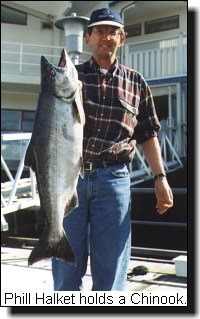 Winter fishing is influenced by sizable herring runs that spawn in the Gorge Waterway, a long, narrow, sheltered inlet that runs through the city centre. These herring school in ever-increasing numbers each winter, making the waterfront a fish magnet; chinook salmon are attracted to the abundant feed, and spend the winter gorging themselves in successive runs. In other seasons, the areas most consistent feed is needlefish, hence, slender lures do better than longer, larger ones.
Summer fishing is influenced by tidal action that sweeps chum , coho , sockeye and pink in a broad arc from Race Rocks in Juan de Fuca Strait across a huge expanse of water (225 square miles) to Trial Island and the entrance to Haro Strait. These species typically occupy the top 50' in water that averages 300'. The 25 mile wide Juan de Fuca Strait separating British Columbia from Washington State reaches depths of over 1,000'.
In recent years, halibut fishing has improved dramatically in Victoria. These fish average 20 - 60 pounds with the heftiest recent catch registered in at 165 lbs.
BC Adventure Members serving this area:
| | |
| --- | --- |
| | Admiral Inn: Real hospitality - Victoria harbourside location - great value! We offer comfortable quality hotel-class rooms & suites with balconies at very competitive rates. You'll find helpful hospitality & we're close to downtown shops, attractions and restaurants. more |
| | |
| --- | --- |
| | Eagle Wing Whale Watching: Bear witness to natures most awe inspiring creature – the Killer Whale. Our guided expeditions take you through 100's of Islands in search of 'Guaranteed' Whales and other marine wildlife. Come discover a 'treasure chest' of diverse marine wildlife on an Eagl... more |
| | |
| --- | --- |
| | Five Star Whale Watching: Discover the picturesque West Coast of Canada & Vancouver Island - home to the largest population of Killer Whales in the world. Natural wonders are abundant in this pristine marine environment covering Southern Vancouver Island, Victoria, & the Gulf Islands. more |
| | |
| --- | --- |
| | Golf Vancouver Island: Proudly offering complete Vancouver Island golf packages and vacations including tee times at 11 destination golf courses, accommodation, airfares, ferry reservations, après golf activities such as fishing, whale-watching and spa Our four distinct regions on V... more |
| | |
| --- | --- |
| | Great Pacific Adventures: Welcome to Great Pacific Adventures, offering whale-watching tours from the spectacular Inner Harbour of Victoria, BC. Locally owned and operated our family of certified outdoor specialist will provide you with an insightful and exciting adventure of a lifeti... more |
| | |
| --- | --- |
| | Harbour Air Seaplanes: Harbour Air is the world's largest all-seaplane airline, offering frequent scheduled flights between the Lower Mainland and the Islands, as well as scenic tours and private charters. All services are carbon neutral and include a high quality carbon offset. more |
| | |
| --- | --- |
| | Ideal Vacation Rentals: For vacation accommodations by owner world-wide, or here in BC, we're the perfect choice. Condos, cottages, private villas, beach homes, ski cabins & chalets, golf course homes and more. Find your ideal home away from home, with Ideal Vacation Rentals. more |
| | |
| --- | --- |
| | Island Outfitters: Our store carries over 20,000 products from some of the finest fishing, outdoor, and hunting equipment in the world. We also offer fresh / saltwater fishing charters off the famous waters of Sooke, Victoria, Port Renfrew, and the Cowichan River in boats up to... more |
| | |
| --- | --- |
| | Orca Spirit Adventures: We experience the longest season & most active whales & marine mammals in BC! Focused on conservation, environmental safety, education, family fun, and exhilaration, we own the operation which locates the whales; giving us the highest success rate. more |
| | |
| --- | --- |
| | Pacific Coastal Airlines: Enjoy scheduled service from Vancouver's South Terminal to Anahim Lake, Bella Bella, Bella Coola, Campbell River, Comox, Cranbrook, Kamloops, Klemtu, Masset, Port Hardy (float & amphibious aircraft to coastal communities), Powell River, Trail, Victoria, & Will... more |
| | |
| --- | --- |
| | Reel Obsession Sportfishing: Reel fishing stories begin with Reel Obsession Sportfishing, with fully guided salmon and halibut sport-fishing charters around Zeballos, Nootka Sound, Esperanza and Victoria. Let Reel Obsession customize a world-class fishing experience to suit your needs. more |
Annual Cycle of Runs
All five species of salmon may be found on the Victoria waterfront: chinook, coho, sockeye, chum and pink. The latter three species are migratory fish, appearing only as mature animals in summer and fall months en route to spawning beds (Pink salmon appear only in odd-numbered years). Chinook and coho may be either resident winter fish or migratory summer fish.
November 15 - March 31 is the most consistent fishing of the year. Resident 2 - 20 lb feeder chinook comprise the bulk of the catch, with the occasional blueback coho (immature, 12 - 16" fish newly-migrated from fresh water) recorded. Bait and hootchies are the prime lures.
April is typically a slower month, with the winter chinook moving out and the first summer runs yet to arrive. Thus fishers turn their attention to halibut.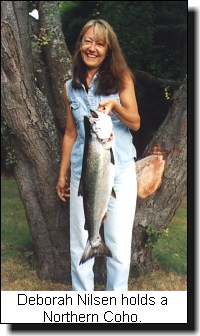 The first summer run, the Columbians, show in Victoria waters May 21 - June 30. These are huge chinook, averaging 30 - 40 lbs with the occasional fish reaching 60 lbs. Columbians, as folk lore has it, are destined for the Columbia River in Oregon. Definitely an anchovy fish.
July 7 the first wave of Juan de Fuca coho arrive. With these fish travel pink salmon every second summer. Pink , coho and sockeye fishing hits its peak in August, with pink fishing continuing strong until September 30th. These fish average 5 - 12lbs.
During the summer, successive runs of chinook salmon swim past the waterfront: Harrisons, Frasers, Cowichans, any migratory chinook destined for lower Georgia Strait and Puget Sound rivers.
In October, the large northern coho arrive, some reaching 20lbs. By mid-October, the first winter chinook filter in.
---
Saltwater Fishing Vacations
Saltwater resorts, guides, charters & tours.
More info....
All Fishing Vacations in British Columbia
Freshwater & Saltwater vacations.
More info....
Outdoors & Fly Shops
Where to shop for fishing and outdoors gear..
More info....
Guides, Adventures, Charters & Tours
Professional tourism operators offering wilderness experiences in BC.
More info...
Wilderness Resorts, Lodges, Cabins & Campgrounds
Browse a selection of wilderness lodging.
More info...
---
Lures on an Annual Basis
Bait: Twelve months of the year, anchovy in a glow green or army truck teaserhead on a 6' leader trolled with or without dodger/flasher is by far the lure of choice in this area. Herring strip in a glow green or army truck teaserhead on a six foot leader trolled with or without a flasher is a distant but effective second.
Hootchies: For winter fishing, utilize both an Army Truck and an Angel Wing. Squirts catch more fish than hootchies in Victoria waters. Carry also a Clover Leaf, Glow Below and Jolly Roger. New hot colours include the Tiger Prawn and El Nino
For summer fishing try: Army Truck, Bubblegum, Mint Tulip, Irish Mist, Blue Baron, Shrimp Fiesta, Dragon Boat, Gold Finger, Pink Shrimp, Autumn Leaf, J79, dayglo orange and anything with pink. Carry both squirts and hootchies.
Year round on Constance Bank carry Pink Shrimp, Moby Dick and Campbell River Dancer.
Plugs: 4-6" plugs: 602, 232,301, 632, 179 and when fishing deeper, the 169. Utilize plugs in summers when mackerel predominate, particularly the 6" models.
Spoons: Red Krippled Ks for summer and fall fishing for migratory fish in the top 50' of water.
Bucktails: In recent years, bucktail flies have fallen out of use in Victoria waters anymore.
Drift fishing: White Buzz Bomb, green Stingsilda.
---
---
Overall Strategy and Specific Fishing Areas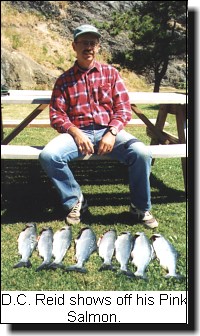 Victoria has two types of fisheries: structure-related fishing for chinook salmon and halibut; and, summer surface fishing for other salmon species. In addition, four distinct fishing opportunities present themselves: Oak Bay Flats; Victoria Waterfront; Constance Bank; and, summer surface fishing in the Quarantine Buoy area.
Due to expansive sand or mud aprons running in shelves from Ten Mile Point to the harbour mouth, bottom bumping is the predominant trolling method for chinook. These bottoms, particularly the Oak Bay Flats, are almost perfectly flat and contain living carpets of needlefish at all times of the year. Lures are trolled within 10' of the bottom in depths of 90-120'. Strip and anchovy are the lures of choice.
The angler is reminded that the presence of needlefish as well as large spawning herring (winter months only) necessitates trying both large and small lures when fishing for chinook.
Constance Bank lies 6 ½ mile due south of Clover Point. Spires of rock rise from the ocean bed and chinook fishing concentrates on the outer ridges. Halibut fishing is best accomplished from a boat tied with a line to a float which is anchored on its own line to the bottom. The Bank presents a good fishing opportunity due to its remote location and rough water. The uninitiated should venture out only with a guide.
Summer fishing for sockeye, pink and coho centres on the Quarantine Buoy, 4 ½ miles south west of the harbour mouth. Fishers troll the surface 50' across a 15 mile diameter circle between Race Rocks and Trial Island. This is a fishery for hootchies and squirts on 42" leaders trolled fast behind a flasher with the Black Box set at .65 volts.